In this issue of "Kirk's Take," I want to introduce new pec, the excellent charting software developed by the Japan Hydrographic Association. It is far and away the best charting software for those cruising Japanese waters. There's not even a close second choice.
New pec is available in a PC-compatible format, as the built-in software for many chartplotters, and as an iPad/iPhone/Android app called new pec smart (see Useful Links).
In my opinion, new pec smart is the best option for most cruisers. It has many bells and whistles that the other versions do not have, is very easy to use, makes it simple to get the quarterly updates, and is a bargain at only ¥960/month (first month is free and there is no minimum contract, so users can cancel and restart their subscription depending on their cruising plans).
The downside is that new pec smart is only on the Japan stores for Apple and Google Play and only in Japanese. It is, though, very easy and intuitive to use, so a Japanese friend could get you comfortable using it in an hour or two. And Konpira Consulting offers a start-up tutorial and ongoing support.
Here are some of the features that make new pec your best friend for easily and safely cruising Japan.
(Update: As of July 1, 2020, new pec smart is also available as an Android app, available on the Google Play Japan Store.)
Easy Route Plotting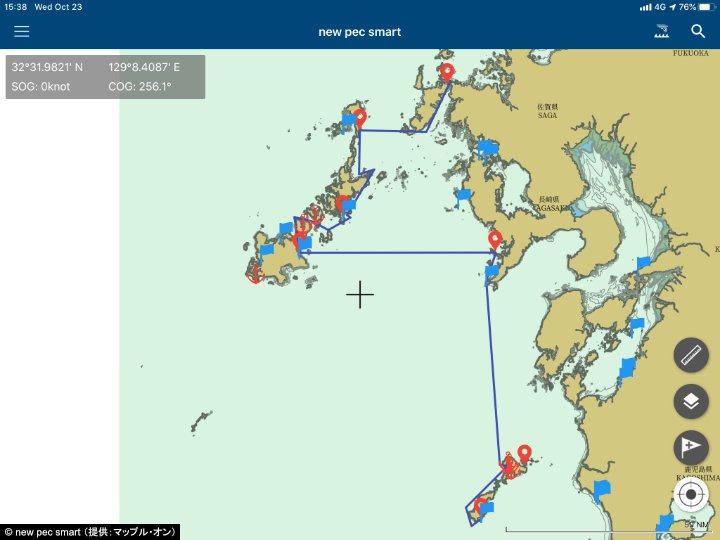 Like all chartplotter software, new pec makes it easy to plot routes and calculate passage distances. This screenshot shows a route I planned for a client exploring the west coast of Kyushu. Using the MyPoint function, I indicated primary moorage spots with red icons, back-up moorage spots with blue flags, and anchorage options with red anchors.
Fixed-net Areas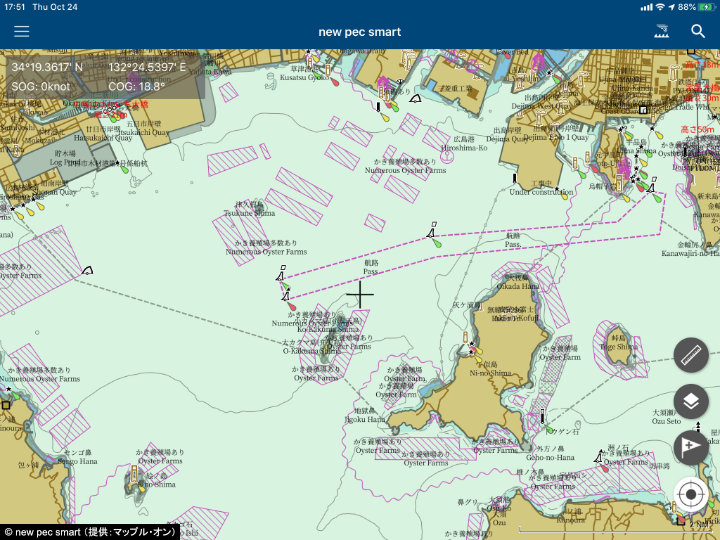 One of the challenges of cruising Japan is the large number of fixed-net and other aquaculture areas, but almost all of these are marked on new pec...and ONLY on new pec. This screenshot shows the many oyster beds in Hiroshima harbor and the clearly marked channel for large ships to pass safely through them; at the top centre of the screenshot is Kanon Marina, so having new pec is definitely helpful for heading there, especially at night! (New pec shows where fixed nets might be, but whether there are nets at any given location depends on the time of the year and other factors, so the prudent mariner should always keep a careful watch; that's especially true at night because the nets are not lit.)
AIS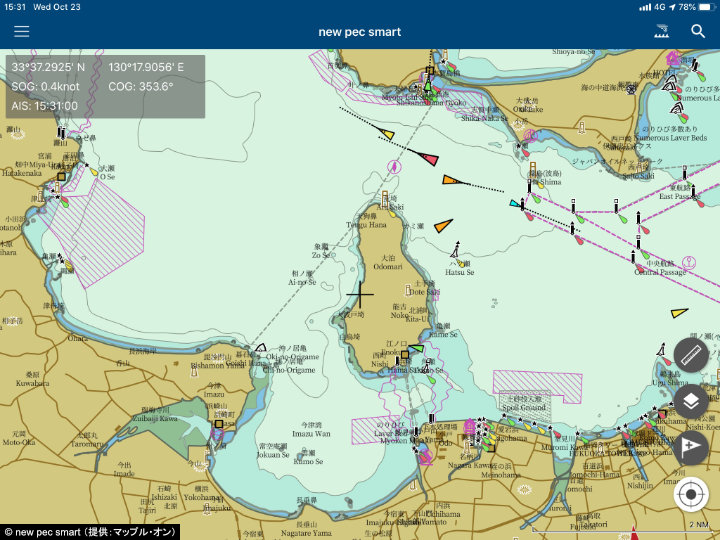 New pec smart displays all AIS targets within up to 20NMs, nicely color-coded depending on ship size. This screenshot shows AIS targets in Hakata (Fukuoka) Bay, as well as the fixed-net areas.
Port Details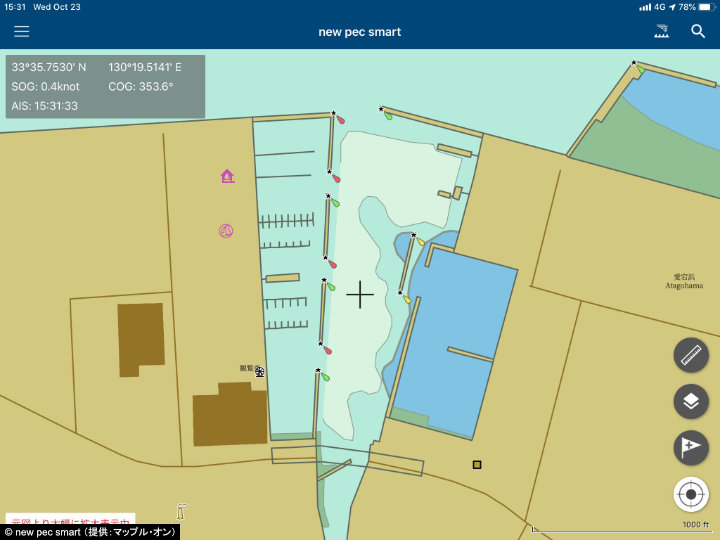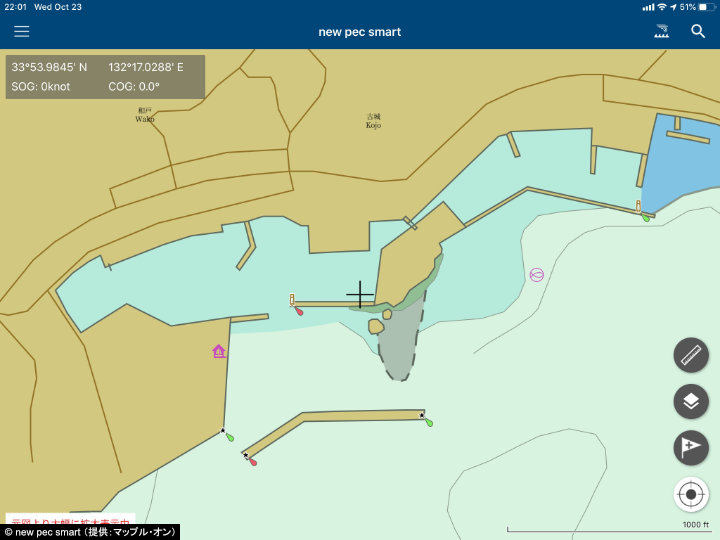 The degree of port detail and accuracy in new pec is far greater than in any other charting software. The first screenshot precisely shows the dock locations of Nishi-Fukuoka Marina Marinoa and the second screenshot accurately shows the small fishing port of Agenosho in the Seto Inland Sea where I used to moor my boat, including the shallow area when approaching the western basin.
Google Toggle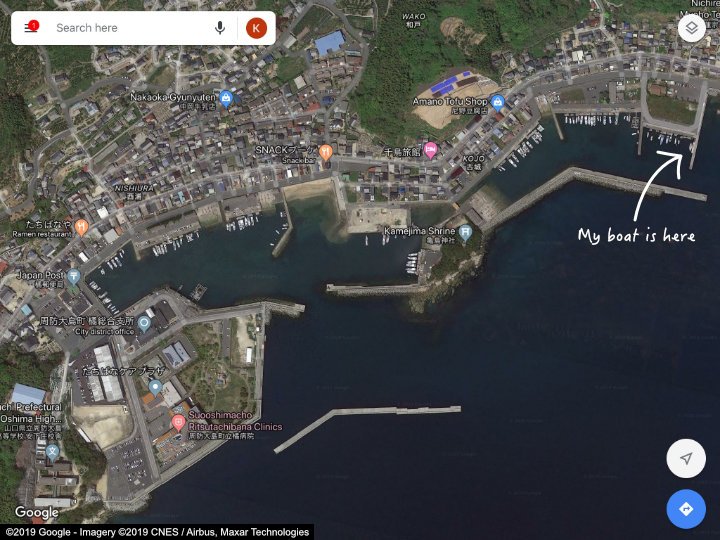 To help get a good "lay of the land" before entering a fishing port, especially to check out possible moorage spots, it is often useful to check Google Satellite. New pec allows one to toggle between its own charts and Google Satellite. This screenshot shows Agenosho on Google Satellite...you can see my boat moored at the far eastern end of the port.
Currents and Tides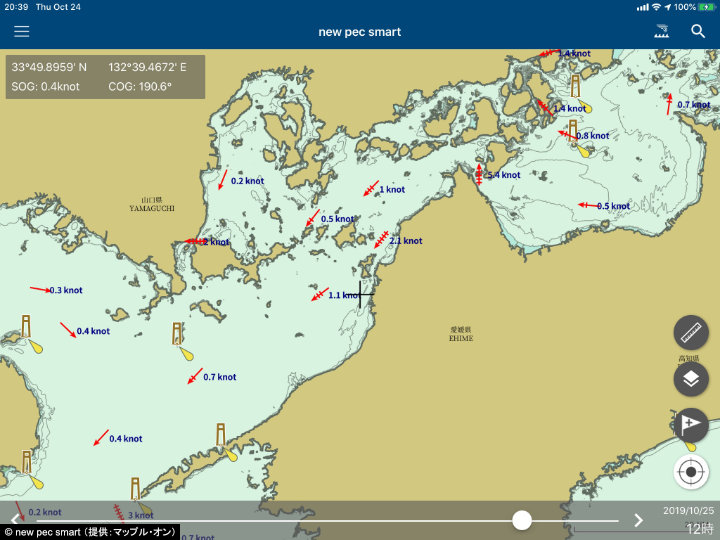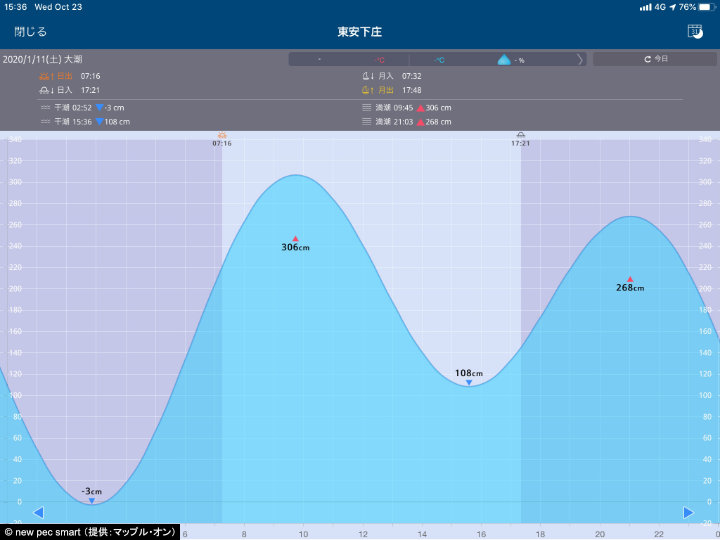 Some straits in Japan have currents exceeding 10 knots and some areas have tidal ranges of almost four meters, but fortunately new pec displays both current and tide information. And one can get current information many years into the future and tide information up to two years out. The first screenshot shows current estimates in the central Seto Inland Sea and the second shows the tidal forecast for Agenosho.
Bridge and Wire Heights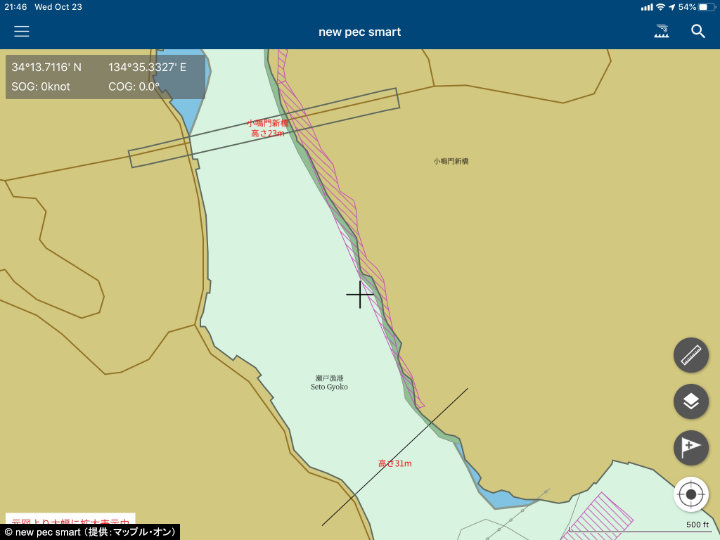 The Japan charts in widely used digital charting software options - such as CMAP and Navionics - do not show the heights of most bridges and transmission wires, but new pec smart does. This screenshot shows one of the three bridges and one of several power lines crossing the narrow Ko-Naruto Strait at the eastern entrance of the Seto Inland Sea. (Although I have never encountered it, there might be a bridge or wire height not shown on new pec smart, especially in remote areas, so always exercise caution.)
Weather Forecasts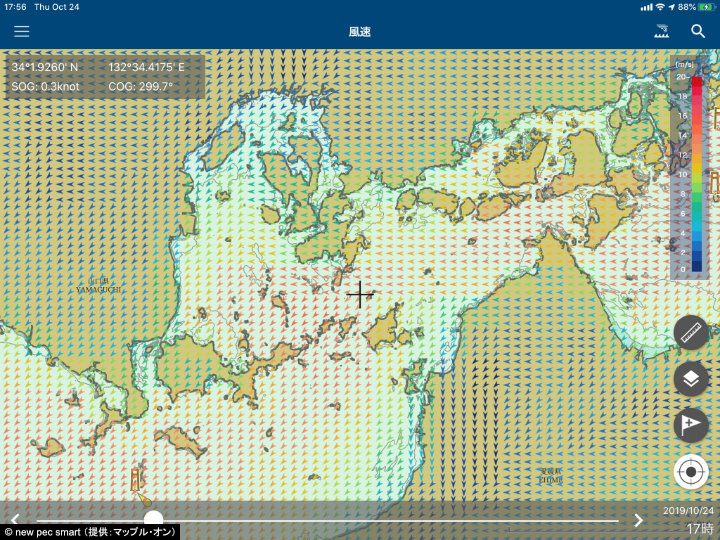 One of new pec smart's nifty functions is a three-day weather forecast (wind, waves, temperature). This screenshot shows the wind forecast for the central Seto Inland Sea, illustrating how the forecast takes into account the land effect on wind strength and direction (something not available on the international weather services/apps commonly used by international cruisers).
Download the Charts in Advance
Of course, to make use of the real-time functions in new pec smart - such as AIS tracking, weather forecasts, and current and tide data - one needs to be connected to the Internet, which, in Japan, is easy if one has a local SIM card in one's iPad/iPhone or leases a "Pocket Wifi" portable hotspot. To use new pec smart when out of Internet range, one can download the charts one needs in advance.
Final Word
New pec has many other very useful functions, but I hope that this gives you a good introduction into how it can be a cruiser's best friend!
Recent "Kirk's Take" Columns