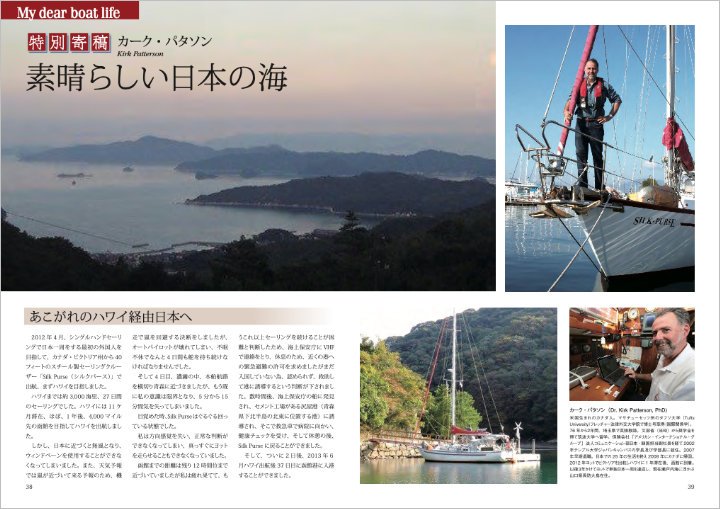 Hi, Everybody!
I trust that all of you, in Japan and around the world, are healthy and happy despite the COVID-19 pandemic. Although, so far, Japan has been relatively untouched by the virus, these are nonetheless serious times that force all us, regardless of where we live, to re-evaluate our priorities and focus on taking care of those closest to us.
In the sailing world, COVID-19—related travel restrictions are forcing cruisers to make some very difficult decisions. For visa reasons, they may not be able to stay where they are, but the next ports of call are closed to them. Some may be forced to make long passages to an open port, only to find it closed when they arrive. Others may be in secure anchorages now but know that they must move soon, before tropical-storm season starts.
As far as Japan is concerned, I recently talked with various Quarantine officials about COVID-19—related travel restrictions as they affect cruisers and, after sorting through various conflicting opinions and interpretations of the regulations, learned that:
Foreigners, including cruisers, who have been in the following countries within the past 14 days are banned from entering Japan: Canada, the United States (including Guam and other U.S. Pacific territories), New Zealand, Australia, SE Asia, Taiwan, China, and Korea. All European countries are also on the "banned list," and so the restrictions apply to foreign cruiser coming from the French territories of New Caledonia and French Polynesia.
Time at sea does NOT count against those 14 days, so if a foreign cruiser reaches Japan within 14 days of departing a banned country they will be required to anchor out and wait until 14 days have passed, at which point they can do clear-in procedures. After clearing in to Japan, however, cruisers that have arrived from those countries are required to self-isolate, usually on their boat, for another 14 days, and during that time they are not allowed to go to supermarkets and any other "public facilities."
As of now, Palau, the Marshall Islands, the Solomon Islands, Samoa, Fiji, Tonga, and other Pacific Ocean countries are not included in Japan's travel restrictions. Such restrictions could, however, be instituted at any time.
There are not currently any restrictions on travel within Japan.
I will post updates on how COVID-19 is affecting foreign cruisers in Japan here on "Kirk's Take."
Separately, linked below is an article about my Japan cruising adventures. It appeared in the Spring 2020 edition of "Beyond the Sea," a magazine issued by the Japan Marina Alliance. The article is in Japanese, but even the pictures help remind us of why Japan is a great place to cruise.
My Article in the Spring 2020 edition of "Beyond the Sea" (PDF)
Recent "Kirk's Take" Columns